To the listing
The Importance of Wireless Network Reports
Jussi Kiviniemi
Jul 13, 2023 4:15:38 PM
Since at Hamina we just added 3D capabilities to our reporting feature set, I thought I'd write some thoughts about wireless network reports.
Video: Jerry & Jussi discuss reports in Hamina Wireless Network Planner
Almost every network created by an MSP or systems integrator comes with a report of the design and installation.
Many designs that are made by in-house network engineers include a report of some kind.
Why are reports of your wireless network design important?
It's the go-to-documentation for the end customer / budget holder of "what we're planning to build" or "what we just built"
Secondly - the report explains in detail the wireless network design for those not directly involved in designing the network, from other engineers all the way to the non-technical stakeholders.
Third, if you're an MSP or systems integrator, producing excellent reports is a way to differentiate from the competition.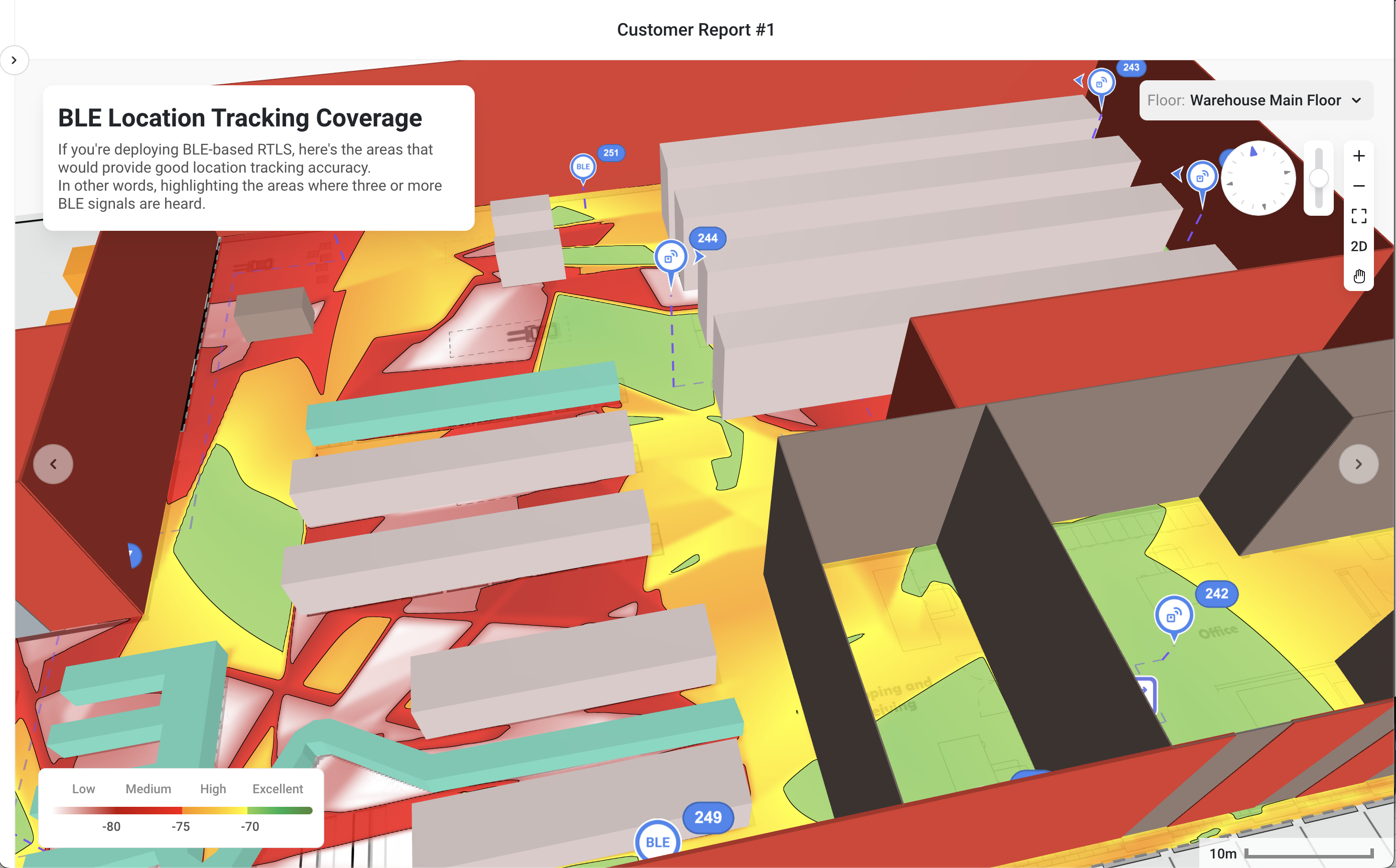 Hamina Panner supports 3D reports, allowing the user to freely "dive in" to the wireless network
Network reports should be:
Comprehensive, from customer requirements to conclusions
Easy to understand
Customised for the end customer, and report reader in mind
Fun to read and explore, as well as convincing and technical enough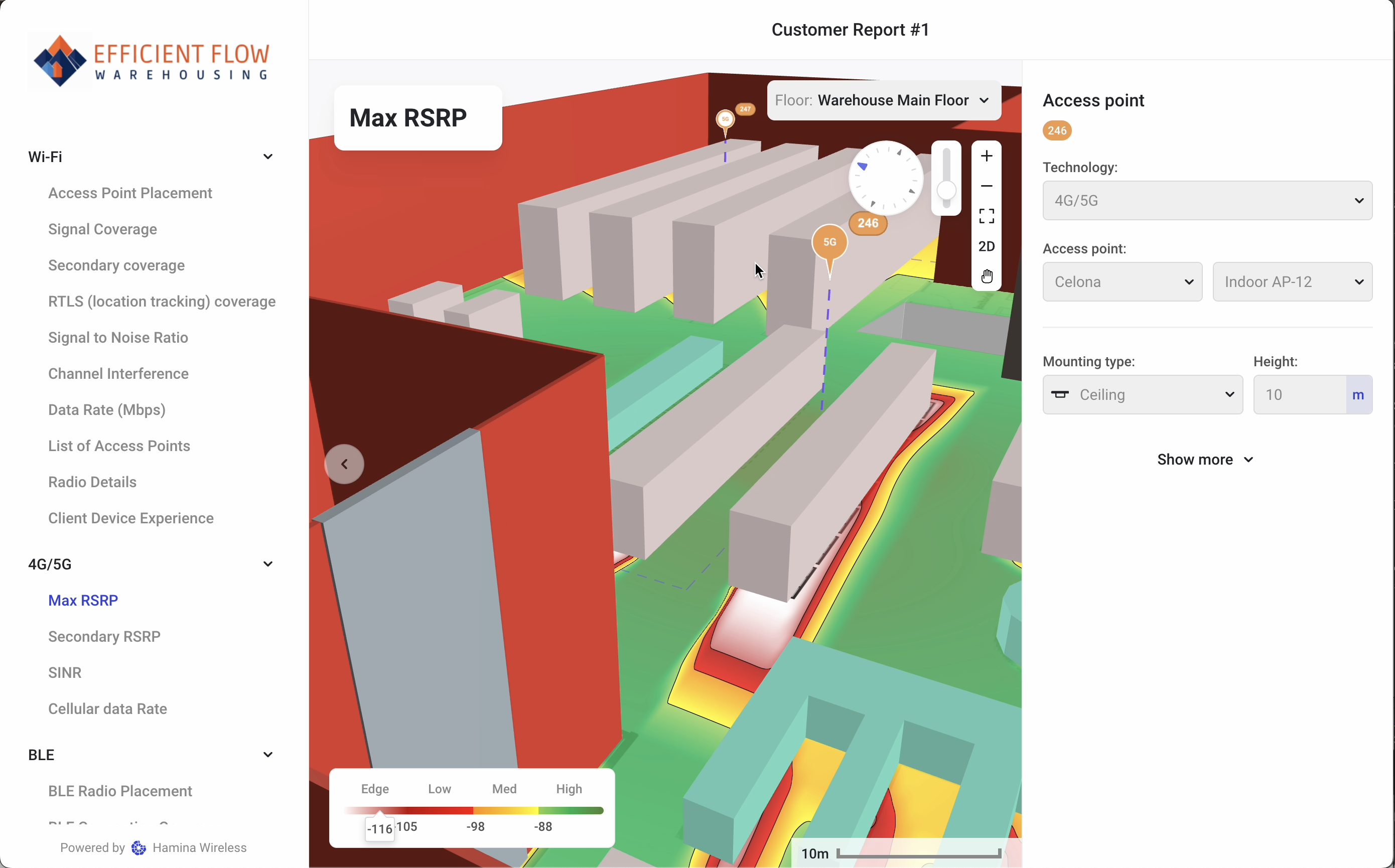 The Hamina reporting has a ton of views, and supports Wi-Fi as well as Private4 LTE/5G, ZigBee, BLE -
all in the same report.
Check out an example report generated from Hamina Wireless Planner
Some of the essentials you'd want to include in your network reports / documentation:
Customer requirements
To document what was agreed with the customer:
Coverage areas
Areas excluded (or not required)
Minimum signal and data rate requirements
Acceptable amount of interference
Signal-to-noise ratio levels
etc…
Bill of Materials
to indicate "this is what we're suggesting to purchase" or "this is the gear we purchased to deploy the network".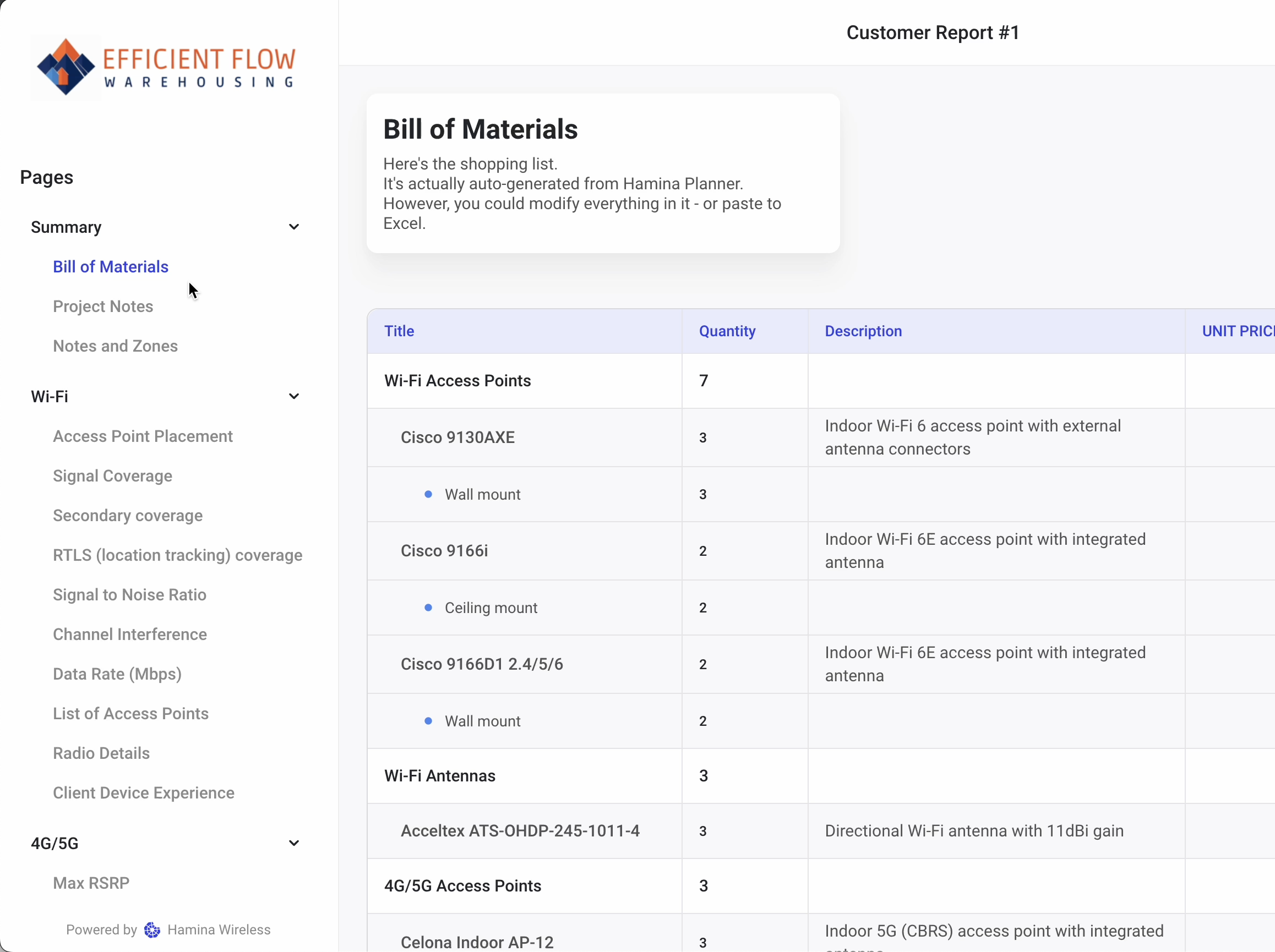 Bill of materials is fully configurable, and automatically generated in Hamina

The placement of Wi-Fi access points, 5G / LTE eNodeBs, Bluetooth beacons, ZigBee gateways, etc.

To see where the access points should be installed
Should also show antenna alignment, and key AP properties
Important: Needs to be high quality enough to see _exactly_ where the APs should go, and where the antennas should be pointed

Overly zoomed-out floor plans, or grainy / pixelated floor plans won't be acceptable for the customer, let alone the installer
Switching & Cabling & PoE considerations

Switches and their capabilities (ports, PoE output)
Locations of switches
IDFs/MDFs
Key heatmaps of the installation…

… to document whether the network requirements were met or not throughout the site.
See also: customer requirements.


Things that may speed up your reporting efforts:
Consider delivering (also) online reports, not just PDF
Customers seem to love examining online reports, because online reports are

Easier to "navigate" than paper reports
Zoomable
Clickable (per-AP coverage, click to see AP details, etc)
Less pixelated / grainy
Not limited to paper limitations: size, static nature of it, lack of zooming…
Immediately generated - no waiting whatsoever generating the document
Use templates to minimise repetitive work

Templates can save a significant amount of time per report
Using templates, you can reuse things from your previous reports:

Logo
Names of all the "pages" (views) of the report
Descriptions of each of the pages
Selections of what you'd like to include in the report, and what to leave out

In Hamina, you can use previously customized reports as templates without any template configurations or even saving the templates

Each report you've generated appears as a template for you to use
Use variables in access point naming

Not reporting-related, but often AP names play a role in the report as well.
Hamina supports variable, based AP naming: You can automise your AP naming by using variables such as floor number, AP vendor / model, connected switch name, AP number, etc.
Customize further

For example, copy the Bill of Materials or Switching / Cabling report view to Excel to further customize.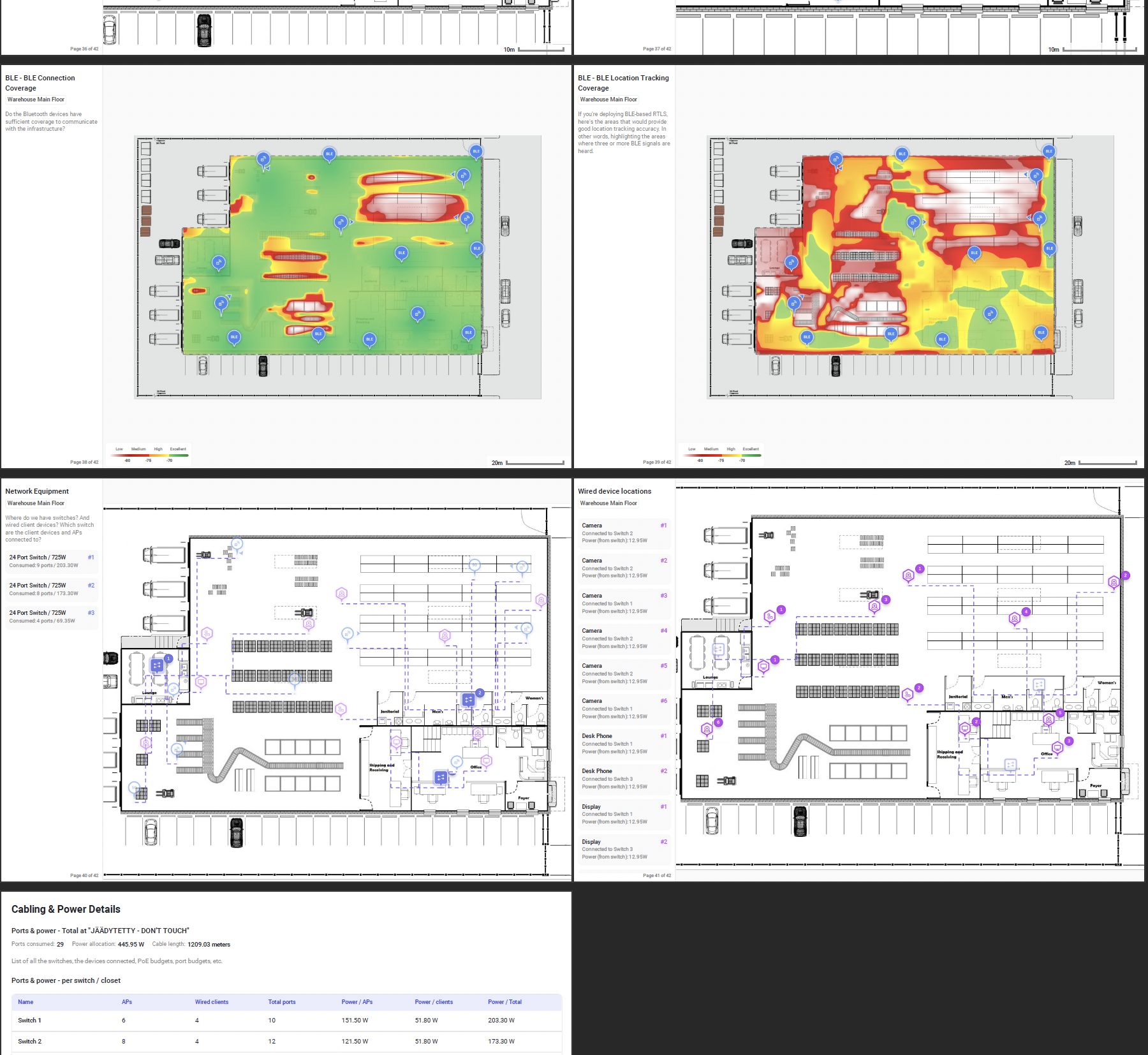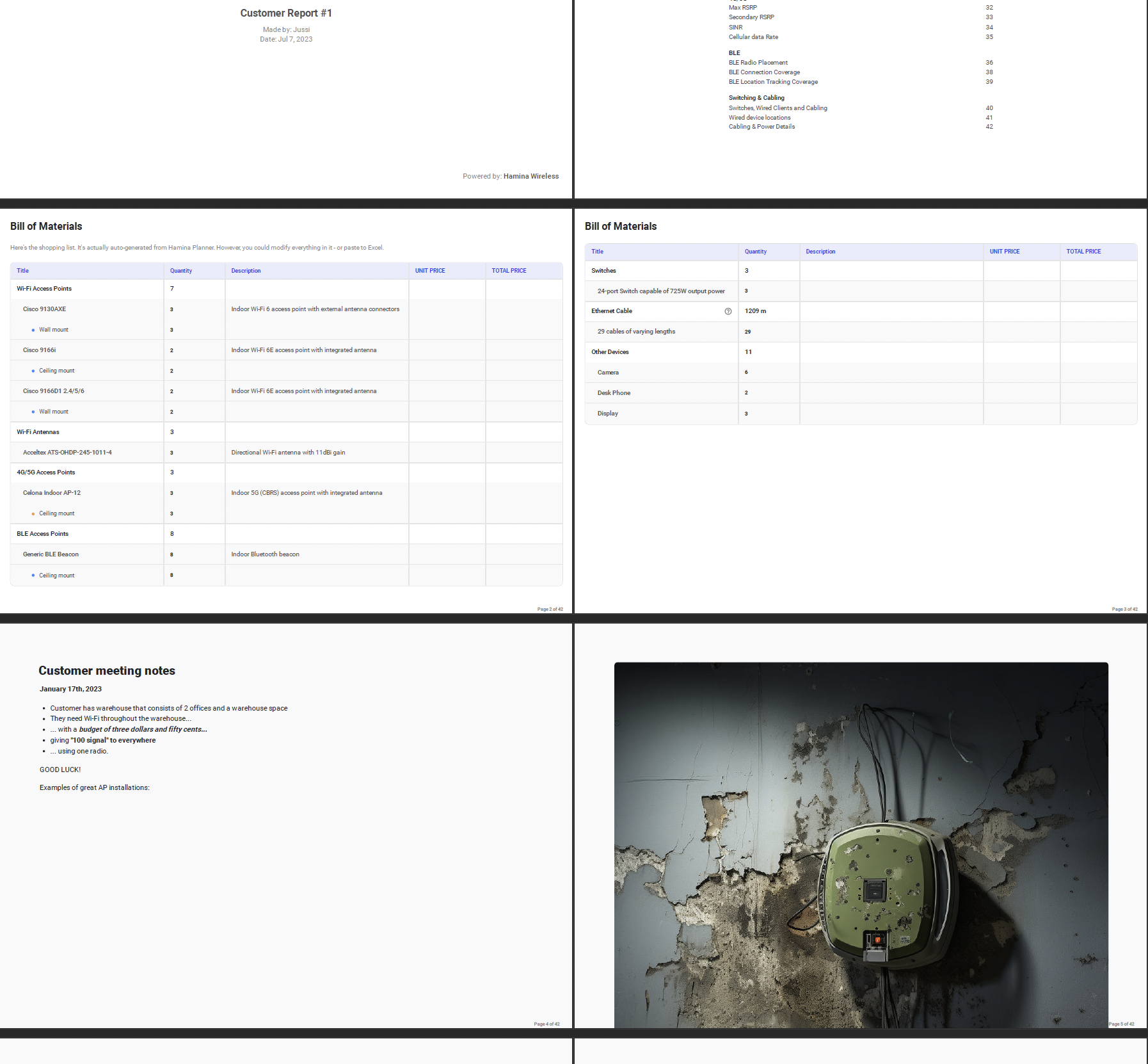 PDF reports, matching your online reports, can be created with the click of a button